Are you planning a trip to Japan and wondering how to stay connected while you're there? Look no further than Rakuten Mobile, one of the leading mobile network providers in Japan. In this blog post, we will explore everything you need to know about Rakuten SIM cards and eSIM options for tourists. From coverage and speed to connectivity options and pricing, we'll cover it all. So let's dive in and discover how Rakuten Mobile can keep you connected during your visit to Japan.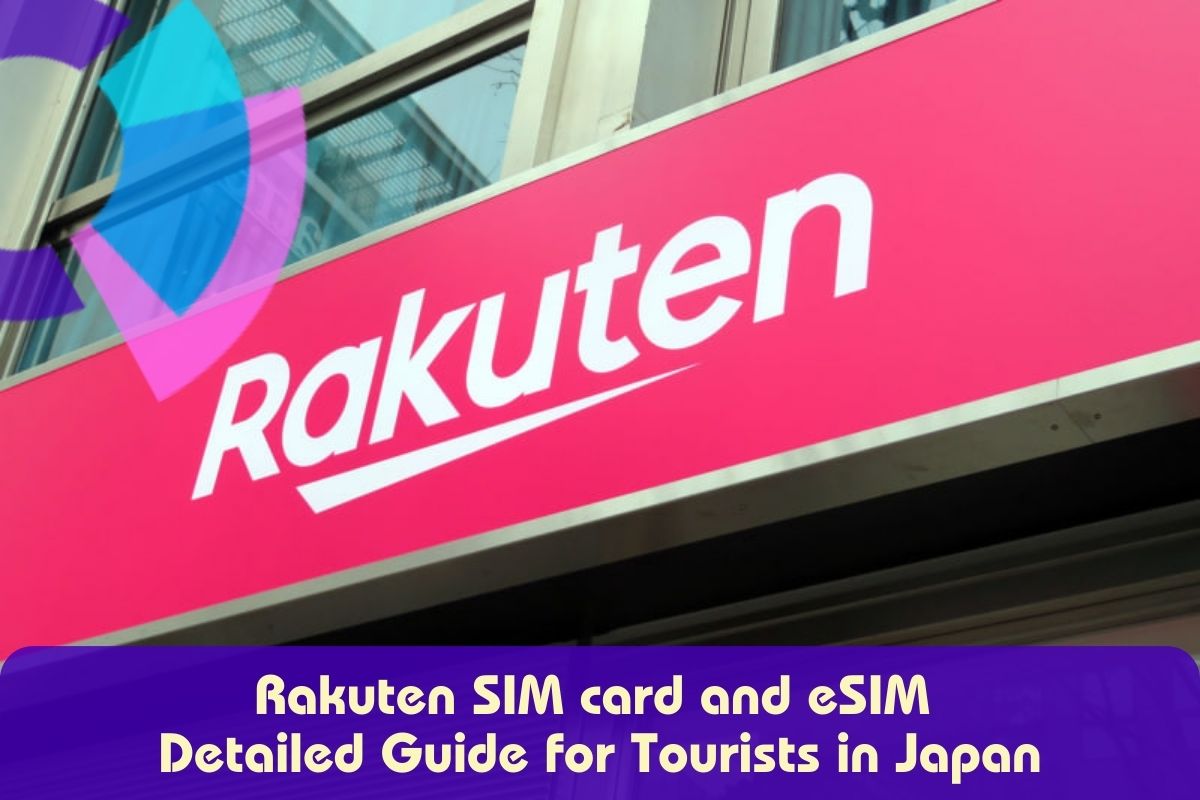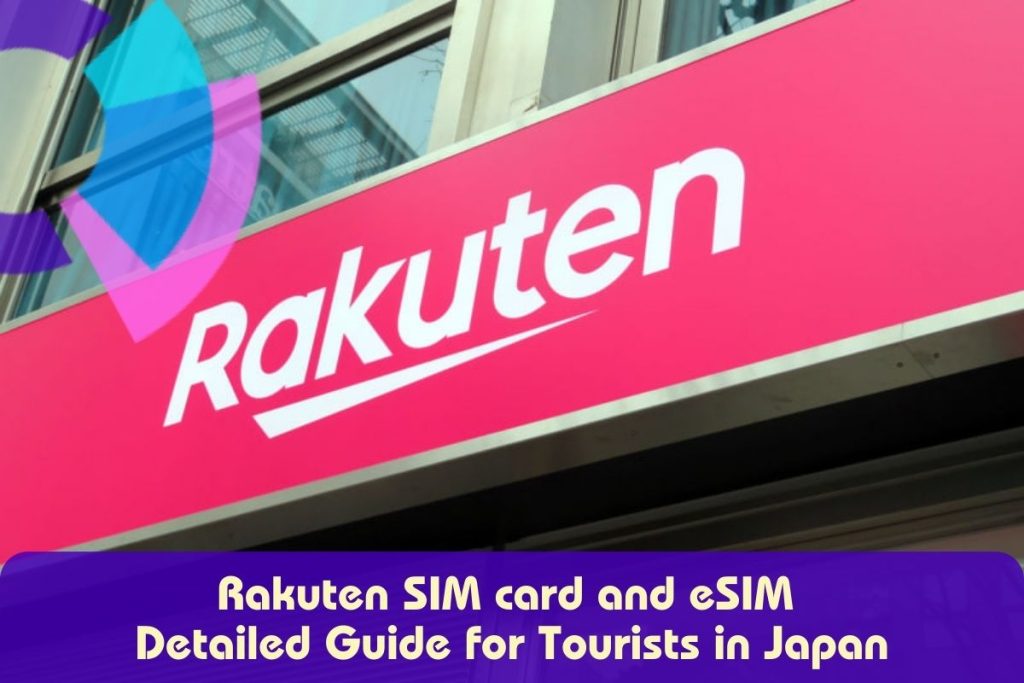 Table of Contents
I. Quick facts about Rakuten Mobile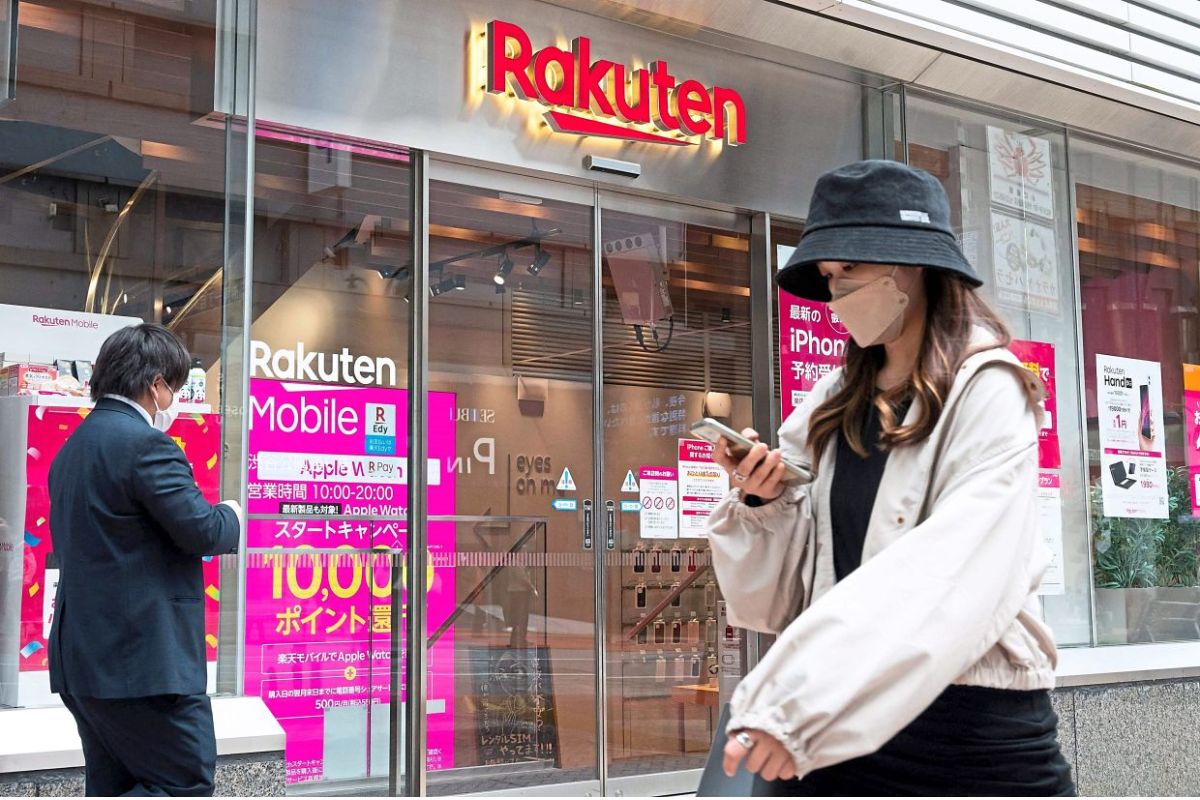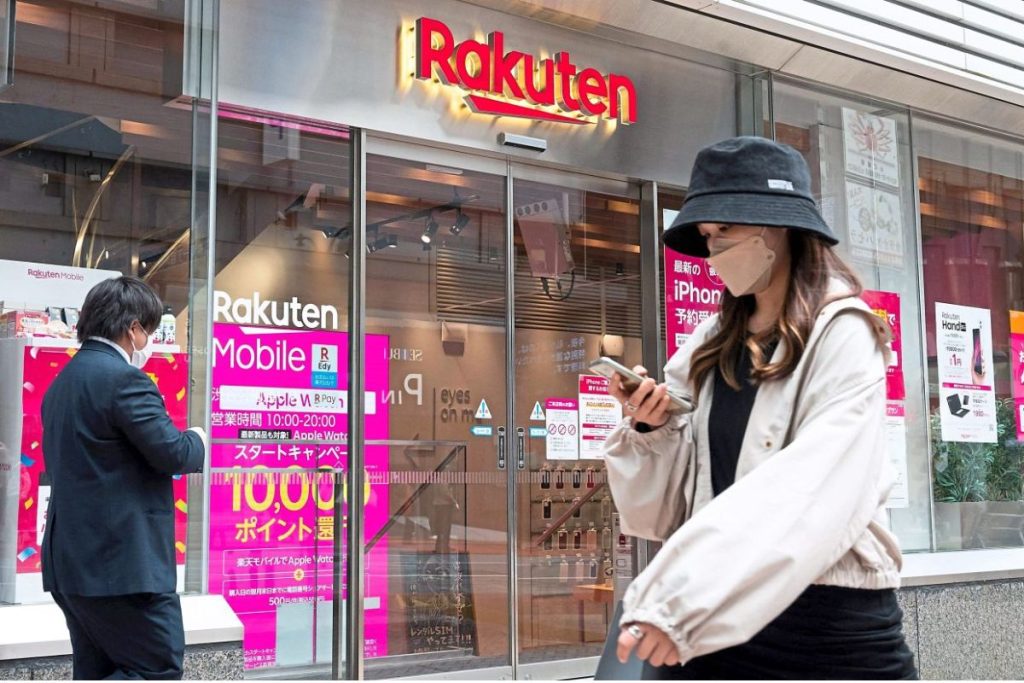 Before we delve into the details, let's start with some quick facts about Rakuten Mobile:
Established: Rakuten Mobile was founded in 2019.
Brand name: The full company name is Rakuten Communications Corp., and it operates under the brand name "Rakuten Mobile."
Meaning of the brand name: Rakuten translates to "optimism" in Japanese, reflecting the company's commitment to providing innovative and reliable mobile services.
Service launch: Rakuten Mobile launched its services in 2020.
Services provided: Rakuten Mobile offers mobile voice and data services.
Number of subscribers: As of 2023, Rakuten Mobile has gained a significant number of subscribers in Japan and provides nationwide coverage.
Awards received: Rakuten Mobile has received several awards for its innovative approach and exceptional services.
Milestones: Rakuten Mobile has achieved several milestones since its inception, including the launch of 5G services and partnerships with global technology leaders.
Now that we have a brief overview of Rakuten Mobile let's move on to discussing coverage and speed.
II. Japan Rakuten Mobile Coverage and Speed
When choosing a mobile network provider, coverage and speed are crucial factors to consider. Let's take a closer look at Rakuten Mobile's coverage and speed in Japan.
1. Rakuten Mobile Coverage in Japan
Rakuten Mobile runs on the 4G network of NTT Docomo, leveraging its nationwide infrastructure.
As of 2022, Rakuten says its 4G coverage reached over 98% of Japan's population.
Coverage is similar but still slightly below that of Docomo in remote areas. Expansion is ongoing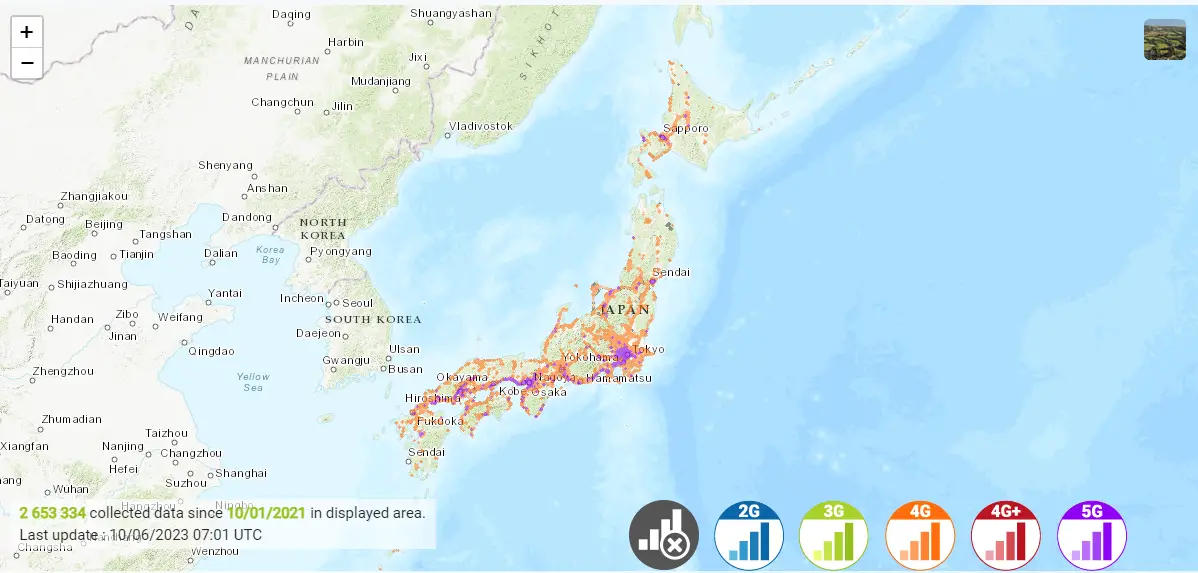 2. Rakuten Mobile Speed
Downloads speeds on Rakuten's network generally range from 30-100 Mbps nationwide.
In major cities like Tokyo, Osaka, download speeds average 50-150 Mbps.
Uploads are slightly lower at around 10-30 Mbps on average.
Indoor coverage and speeds may be affected since Rakuten has fewer base stations than Docomo currently.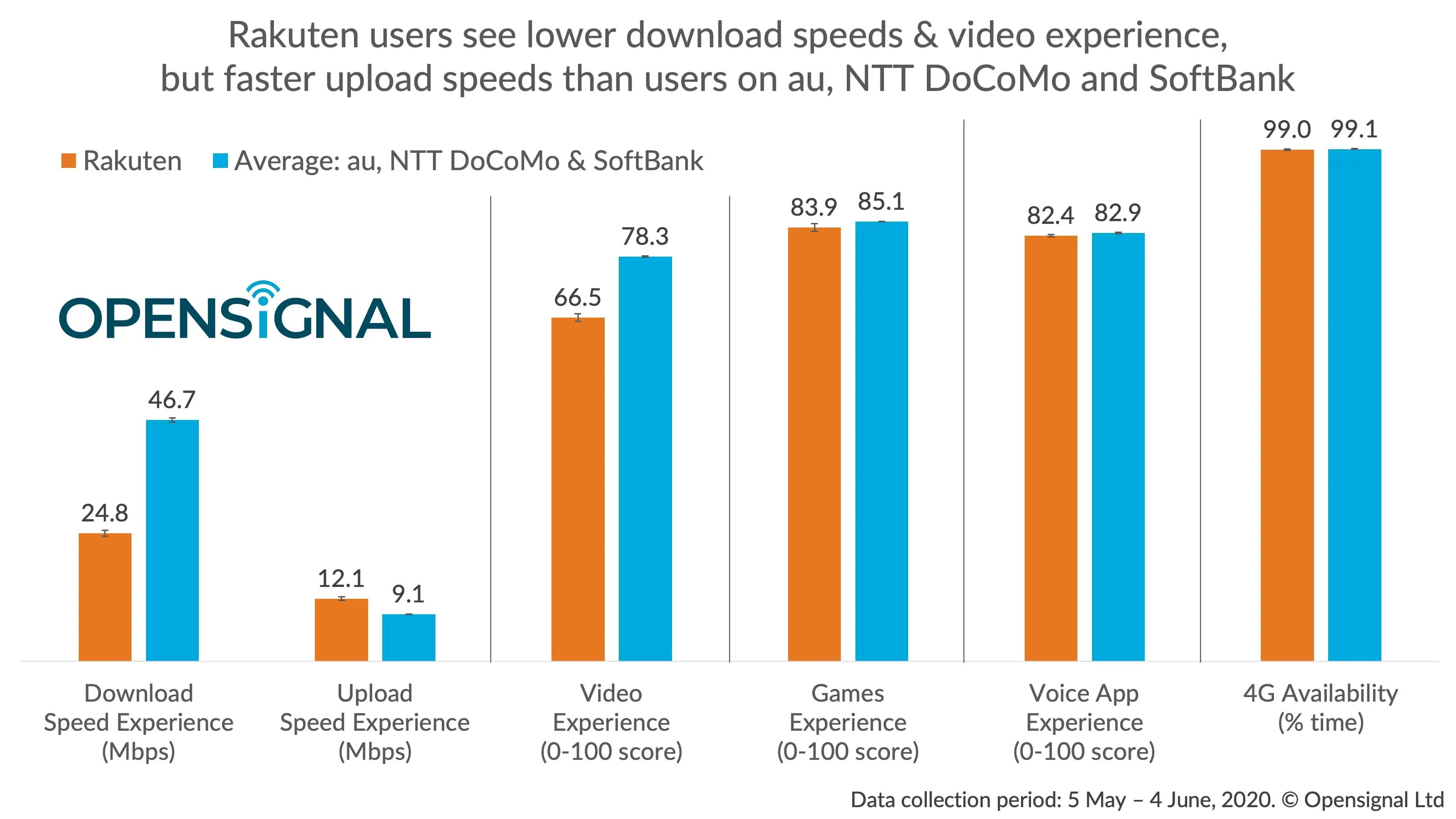 III. Rakuten Mobile Connectivity Options for Travelers to Japan
As a tourist visiting Japan, you have multiple options for connecting to Rakuten Mobile's network. Let's explore these options in detail:
Connectivity Option
Pros
Cons
SIM card

Local rates
Convenience
No additional device required

Need to change SIM cards
Limited phone number availability
Difficulty in obtaining a SIM card for locked devices

Multiple device connectivity
Can be shared among group travelers
No need to switch SIM cards

Need to carry an additional device
Battery life limitations

Seamless connectivity with existing mobile plan
Potentially higher costs
Overall, a prepaid Japan SIM card is the most budget-friendly and convenient option for travelers' connectivity needs in the country.
IV. Best Rakuten SIM Cards for Tourists & Cost
Rakuten Mobile offers various SIM card options specifically designed for tourists. These SIM cards come with different plans, prices, and benefits. Let's take a look at some of the best Rakuten SIM cards available for tourists:
| | | |
| --- | --- | --- |
| Plan | Data Allotment | Approx. Monthly Cost (USD) |
| Starter Plan | 1GB | $12 |
| Standard Plan | 3GB | $18 |
| Generous Plan | 8GB | $24 |
| Power Plan | Unlimited | $30 |
Please note that these are just examples, and the actual plans and pricing may vary. To get accurate and up-to-date information, it's recommended to visit Rakuten Mobile's official website.
If your device only supports eSIM technology or if you prefer the convenience of using an eSIM, you may be wondering if Rakuten Mobile supports eSIM. Let's find out.
V. Does Rakuten Mobile Japan support eSIM?
Yes, Rakuten Mobile Japan does support eSIM technology. eSIM provides several advantages over physical SIM cards, such as the ability to switch between different mobile network providers without changing physical cards and the convenience of purchasing and activating eSIMs online.
However, please note that as of now, GIGAGO does not offer eSIMs for Rakuten Mobile. This may be due to various reasons such as limited eSIM coverage or pricing factors. But don't worry, there are other reliable online providers where you can purchase Rakuten Mobile eSIMs if you prefer this option.
VI. Where Can You Buy a Rakuten SIM Card and eSIM?
When it comes to purchasing a Rakuten Mobile SIM card or eSIM in Japan, you have several options. Let's explore these options below:
1. Where to Buy Rakuten SIM Cards for Japan
Upon Arrival
If you prefer to buy a physical SIM card upon your arrival at an airport in Japan, you can visit the designated counters or shops offering SIM cards. These counters are usually located in the arrival area, making it convenient for travelers to purchase a SIM card immediately.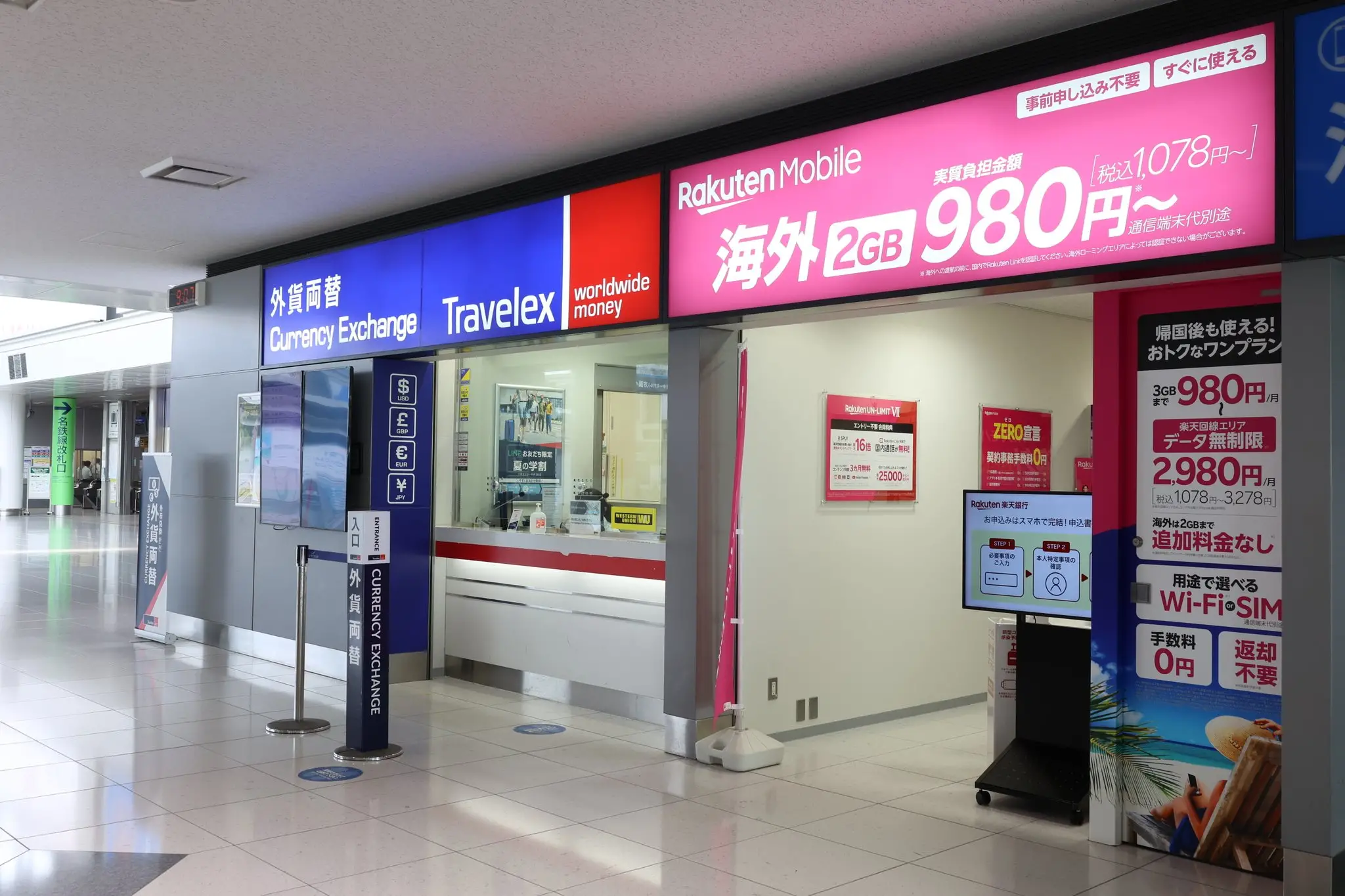 Rakuten Mobile Store
Rakuten Mobile has its own stores across Japan where you can purchase SIM cards directly. These stores provide assistance and guidance, ensuring you get the right plan and package for your needs.
Other Authorized Retail Stores
Besides Rakuten Mobile stores, several authorized retail stores throughout Japan offer Rakuten Mobile SIM cards. These stores may include electronics retailers, convenience stores, or mobile phone accessory shops. It's recommended to check the official Rakuten Mobile website for a list of authorized retail stores near your location.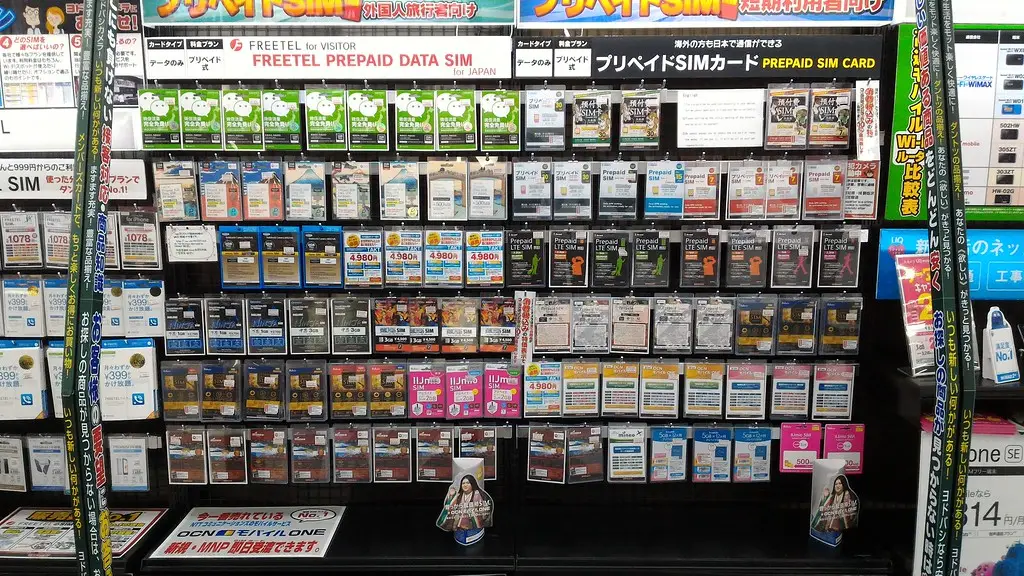 2. Where to Buy Rakuten Mobile eSIM
If you're interested in purchasing a Rakuten Mobile eSIM, there are online platforms where you can buy them. While GIGAGOonline providers that specialize in eSIMs. These platforms typically offer easy purchase and activation processes, making it convenient for travelers.
Now that you know where to buy a Rakuten Mobile SIM card or eSIM, let's move on to activating them.
VII. How to Activate Rakuten SIM Card/eSIM
Activating a Rakuten Mobile SIM or eSIM is a straightforward process. Whether you have a physical SIM card or an eSIM, Rakuten Mobile provides clear instructions to activate and start using their services. Let's explore the activation processes for both options:
1. How to Use Rakuten SIM Card
To use a Rakuten Mobile Japan SIM card, follow these simple steps:
Insert the SIM card: Locate the SIM card slot on your device and insert the Rakuten Mobile SIM card.
Power on your device: Turn on your device and wait for it to recognize the SIM card.
Activate the SIM card: In most cases, Rakuten Mobile SIM cards are pre-activated. If not, follow the provided instructions to activate the SIM card.
Set up APN settings if necessary: If you can't connect to the internet after inserting the SIM card, you may need to set up the Access Point Names (APN) manually. Check Rakuten Mobile's website or contact their customer support for the correct APN settings.
Check your services: Once the SIM card is activated and APN settings are configured, you should be able to enjoy Rakuten Mobile's voice and data services.
2. How to Activate Rakuten Mobile Japan eSIM
If you're using a Rakuten Mobile eSIM, the activation process may differ slightly depending on your device. Here's a general guide on how to activate a Rakuten Mobile eSIM:
Install the eSIM: Follow the device-specific instructions to install the Rakuten Mobile eSIM on your compatible device.
Activate the eSIM: Rakuten Mobile provides activation instructions specific to different device models. Visit their website or refer to your device's user manual for detailed instructions.
Set up the eSIM: Once activated, you may need to configure additional settings such as APN or network preferences. Consult Rakuten Mobile's website or customer support for guidance on these settings.
Start using the eSIM: Once the eSIM is activated and set up, you can start enjoying Rakuten Mobile's services without the need for a physical SIM card.
Remember to consult the official Rakuten Mobile website or contact their customer support for the most accurate and up-to-date activation instructions based on your device model.
VIII. Japan Rakuten Mobile Call & SMS Rates
Understanding call and SMS rates is essential for managing your expenses while using Rakuten Mobile in Japan. Let's explore the call and SMS rates offered by Rakuten Mobile:
| | | |
| --- | --- | --- |
| Call/SMS Type | Rate (JPY) | Rate (approx. USD) |
| Calls to Rakuten Mobile | Free | Free |
| Calls to Other Networks (Standard/Generous plan) | ¥10/min | $0.08/min |
| Calls to Other Networks (Power plan) | ¥0/min | Free |
| International Calls | $0.35-0.50/min | $0.35-0.50/min |
| SMS to Domestic (Standard/Generous plan) | ¥1/message | $0.008/message |
| SMS to Domestic (Power plan) | ¥0/message | Free |
| SMS to International | ¥5/message | $0.04/message |
It's important to note that call and SMS rates mentioned here are for reference purposes only, and they may vary based on the specific plan or package you choose. Be sure to check Rakuten Mobile's official website for the most accurate and up-to-date information on call and SMS rates.
In addition to call and SMS rates, it's also helpful to know some useful USSD codes for accessing various services on Rakuten Mobile's network.
IX. Useful USSD Codes for Rakuten SIM Card
USSD codes are short codes that allow users to access specific services or obtain information from their mobile network provider. Here are some useful USSD codes for Rakuten SIM Card and eSIMs:
| | |
| --- | --- |
| USSD Code | Description |
| *131# | Check Balance/Data Usage |
| 111amount# | Top Up Account (e.g. 1111000#) |
| 1141# | Change Payment Method |
| 1211# | Check/Update Profile |
| 1212# | Change Password |
| 1213# | Change or Cancel Plan |
| 1214# | PIN Unlock |
| *119 | Emergency Number (Police/Fire/Ambulance) |
These USSD codes can help you check your data balance, account balance, and perform other essential functions. Be sure to consult Rakuten Mobile's official website for the most updated list of USSD codes and their respective uses.
X. How to Top-Up Rakuten SIM Card/eSIM
To make sure you can continue using your Rakuten SIM card or eSIM without interruption, it's important to know how to top it up when needed. Here's how you can top up your Rakuten SIM card or eSIM:
Here are the options to top-up your Rakuten SIM Card/eSIM while in Japan:
Online via Rakuten website: Log in to your account, select amount and pay with credit/debit card. Instant top-up.
Convenience Store Payment: Use the barcode or QR code on your Rakuten account page at 7-Eleven, Lawson, FamilyMart to pay by cash or card.
USSD Code: Dial *111*amount# from your Rakuten number. For example, *111*1000# to add ¥1000 credit.
Top-up amounts start from ¥500 and credit never expires. Status via *131#. International top-ups may require address verification. Topping up credit keeps Rakuten SIM activated.
XI. Alternative to Japan Rakuten SIM Cards
Are you planning a trip to Japan and want to avoid the hassle of swapping SIM cards or paying expensive roaming fees? Look no further than esimjapan.net.
With eSIMs, you can access a Japanese data plan directly on your smartphone without needing a physical SIM card. Simply scan a QR code and you're ready to go – as long as your device supports eSIM technology.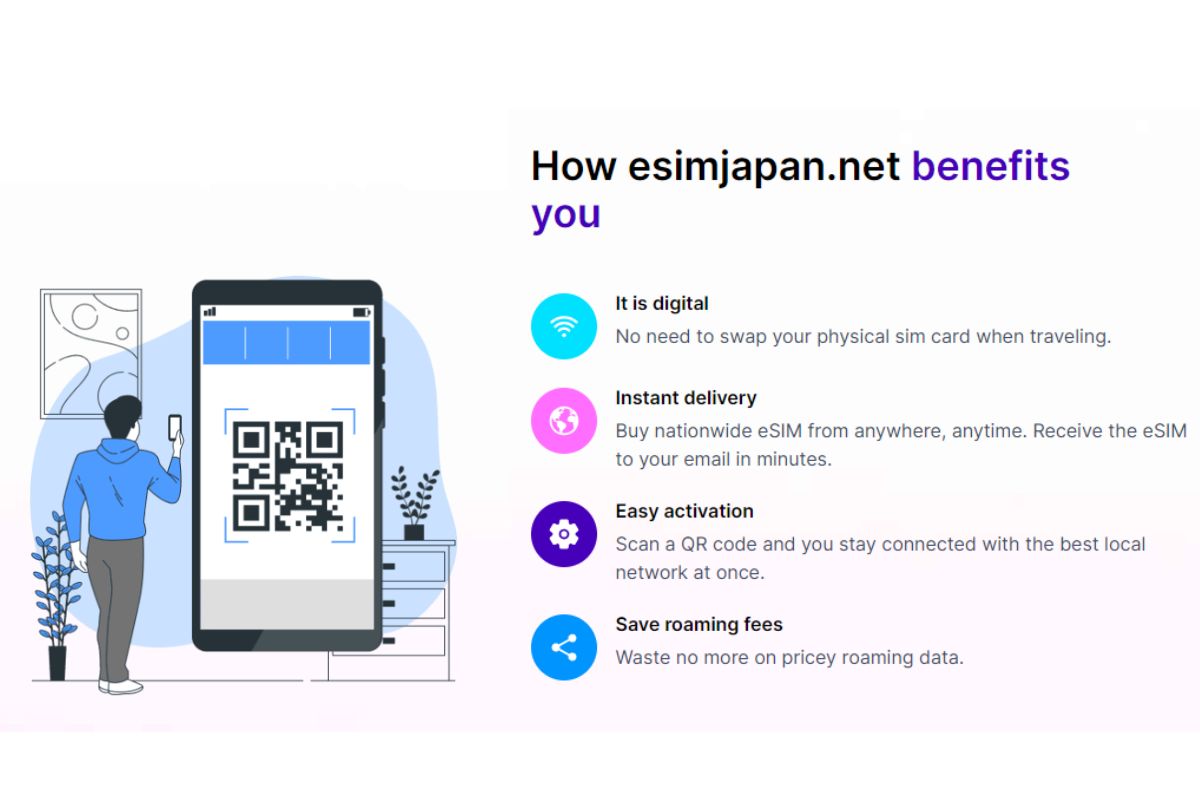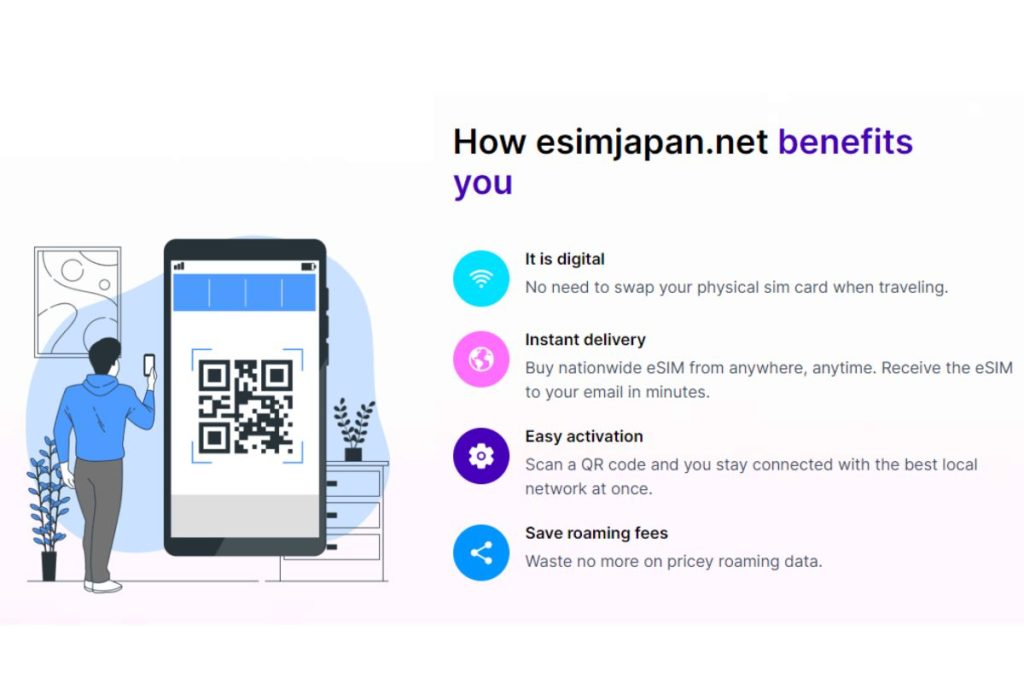 esimjapan.net offers many benefits. Unlike physical SIM cards, eSIM activation is entirely digital. Once you purchase your eSIM profile, you'll receive an email with a QR code that you can scan using your phone's camera, and the eSIM will automatically provision on your device.
You won't need to wait in line to register for a SIM slot – just open the email and you're connected!
esimjapan.net partners directly with major Japanese carrier KDDI, ensuring you receive high-speed 4G/5G data on their reliable networks whether you're in the city or a rural village. We offer flexible eSIM plans ranging from 3 days up to 1 month, so you can choose the perfect length for your Japan trip itinerary. Data allowances range from 1GB up to a generous 20GB per day.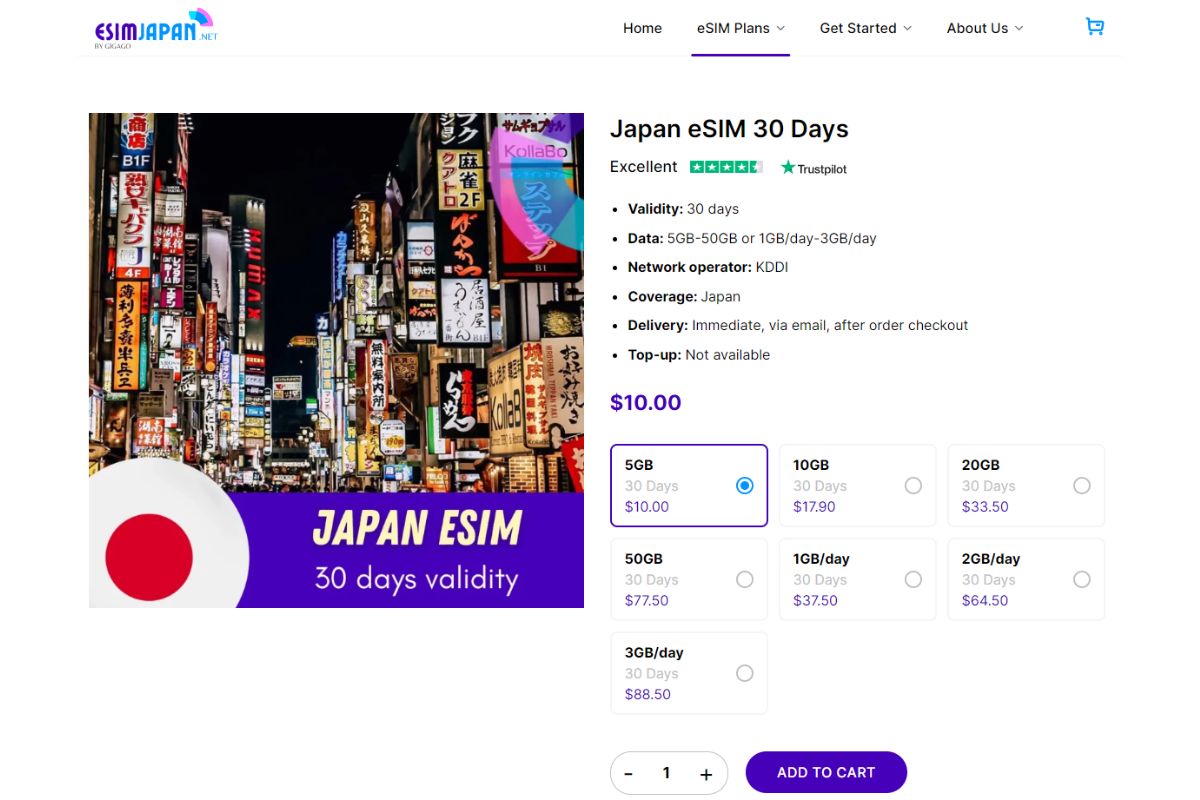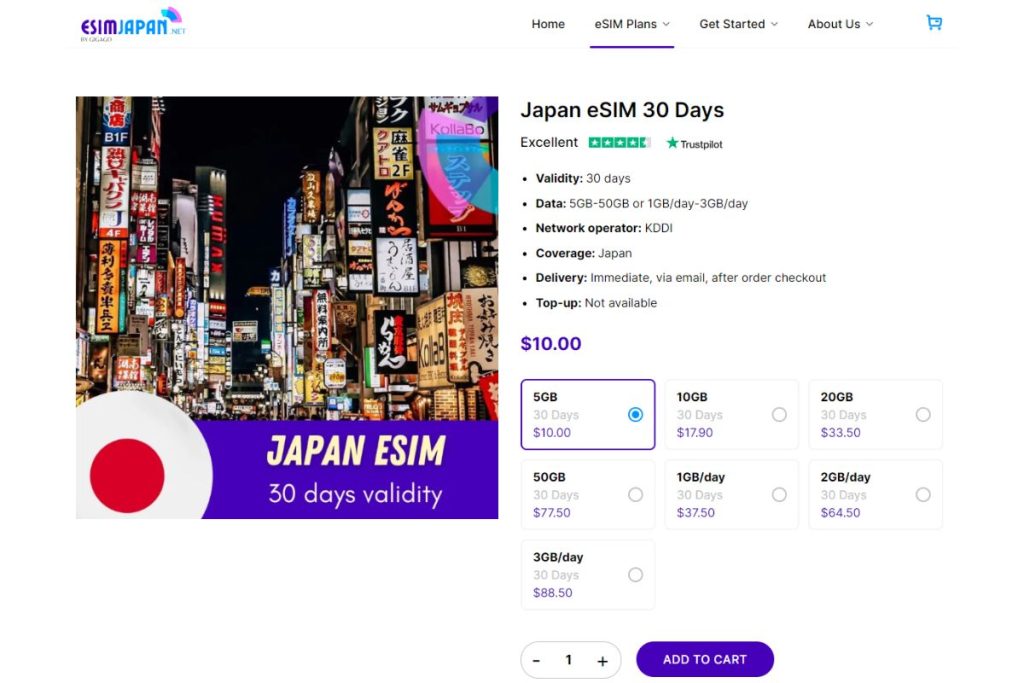 Detailed setup guides are provided in multiple languages to ensure smooth installation of the eSIM on any compatible device. And if you have any activation issues, customer support is available 24/7 via live chat, email, and WhatsApp.
XII. FAQs about Rakuten Mobile in Japan
What networks does Rakuten Mobile use?
Rakuten Mobile currently leases network infrastructure from NTT Docomo. This provides nationwide 4G LTE coverage. Rakuten is also building its own 5G network.
Do I need to sign a contract?
No, Rakuten Mobile uses a no-contract prepaid SIM model which offers more flexibility than postpaid contracts.
What payment methods do they accept?
You can pay via credit/debit cards as well as convenience store counters like Seven Eleven or Lawson.
XIII. Final Words
Before making a decision, consider factors such as your travel duration, destination, device compatibility, and specific data needs. Rakuten Mobile's range of SIM cards and eSIMs cater to different requirements, ensuring you can find the perfect solution for staying connected.
We hope this comprehensive guide has provided valuable insights into Rakuten Mobile SIM cards and eSIM options for tourists in Japan. Happy travels and stay connected with Rakuten Mobile!