Traveling to Japan and need mobile data? Getting a local SIM card for your trip can provide convenient access to maps, translation, and more. With plenty of options between traditional physical SIMs, eSIMs, and short-term data plans, choosing the right Japan SIM card may feel overwhelming. Read on for a full guide on which Japan SIM card or eSIM to buy, where to purchase, how much data you'll need, the latest prices, and more tips for saving money on data in Japan.
Table of Contents
I. Should I Buy a New SIM Card for My Japan Trip?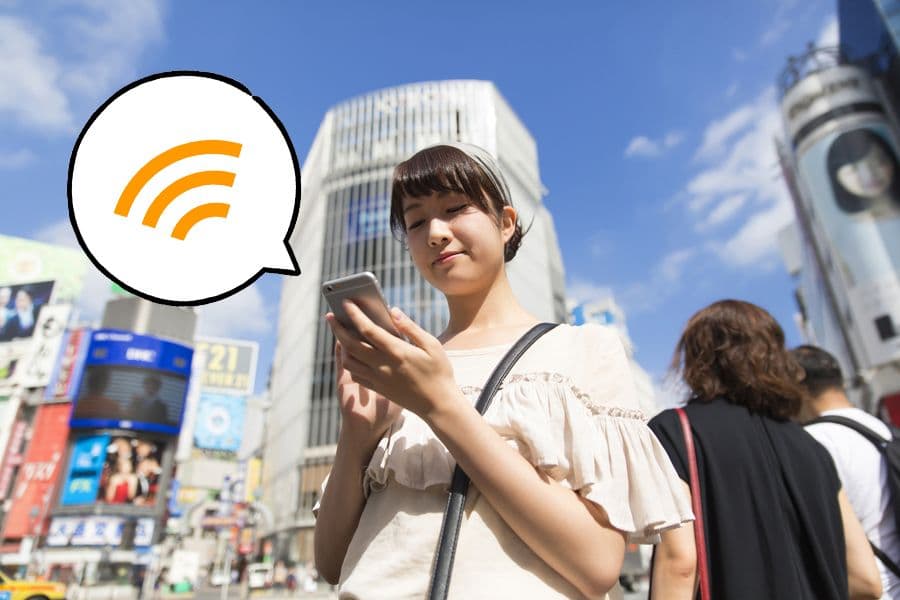 For most travelers, getting a local Japan SIM card is highly recommended. Unlike in some countries, free public WiFi can be hard to find in Japan. Purchasing a Japan SIM card provides affordable access to:
Google Maps for navigation
Rideshare/transit apps like Uber, Lyft, and Japan Rail apps
Translation apps
Social media, messaging, and calling over data
Mobile hotspot for other devices like laptops
Having mobile data on hand prevents getting lost and allows you to access apps and information on the go. It may be tempting to rely on WiFi at your hotel or cafes, but spotty connections and weak signals can quickly limit your internet access around Tokyo and other popular areas.
SIM cards are especially useful for independent travelers who want flexibility navigating the city instead of relying on tours or guides. However, even tour groups can benefit from having a Japan SIM card to look up information when separated from the guide or group.
With cheap prepaid Japan SIM cards available, there are very few downsides to getting one for your upcoming trip if you plan to use mobile data. The convenience of access to maps, travel apps, and internet outweighs any minor hassles of setting up a SIM card.
Advice: So, Japan SIM card is one of the indispensable items when traveling to Japan.
II. Japan SIM Card Types – Which One is the Best for Tourists?
When purchasing a Japan SIM card, you'll first have to decide whether you need a physical SIM or eSIM. Here are the key differences:
Physical SIM Card: The traditional plastic chip that inserts into your phone. Physical Japan SIM cards can be picked up at stores and airport kiosks in Japan or shipped internationally before your trip.
eSIM: A digital SIM embedded into your phone. eSIMs are configured through an app by scanning a QR code. eSIMs are convenient since you don't have to swap out SIM cards, but availability is limited to newer smartphone models.
Most Japan eSIM providers also require installing profiles before departure instead of allowing in-country activation. However, eSIMJapan.net has rolled out eSIM support in Japan, allowing easy activation after arrival.
For short trips under 2-3 weeks, prepaid SIM cards provide the best value without being locked into long contracts. Here are the main prepaid SIM card options:
Data-only SIM: Provides mobile data but no cellular voice/text capabilities. Data-only SIMs are cheaper and work well for travelers who primarily want data for maps, websites, messaging via apps, etc. Voice calls can be made over data.
Voice + Data SIM: Supports cellular voice calls and texting in addition to data. More expensive than data-only but necessary if you want a local phone number and traditional call/text access.
Tourist SIM: Specialty prepaid SIMs targeted at travelers. May include extras like free international calls, pocket WiFi rental, or unlimited Japan calling. Often available for pickup at the airport.
For most tourists, a data-only prepaid SIM provides the best mix of affordability and utility. With free messaging options over data like WhatsApp, LINE, Facebook Messenger, etc., voice/text SIMs are unnecessary for short trips.
Notes: You'll also have to decide between a standard or micro/nano SIM card based on what size your phone supports. iPhones and newer Android devices use nano SIMs, for example. Make sure to have the right SIM size or bring an adapter.
III. How Much Data is Enough for a Prepaid Tourist SIM Card for Japan?
With a Japan SIM card, one of the most important choices is picking the right data amount during your trip length. Here are some general data usage estimates:
Light usage: 2-3 GB for up to 1 week
Medium usage: 3-5 GB for 1-2 weeks
Heavy usage: 5+ GB for 2-3 weeks
These numbers assume using maps, social media, some photo uploads, light web browsing and messaging daily. Video streaming will consume large amounts of additional data.
To conserve data, use WiFi networks whenever available and disable auto-playing videos/music. Downloading offline Google Maps and translating key phrases ahead of time also helps minimize mobile data needs if you're on a tight allowance.
However, don't stress about data limits too much – premium Japan networks like SoftBank, NTT Docomo, and au have extensive coverage and fast speeds across Tokyo, Kyoto, Osaka and other popular tourist regions. Topping up an extra 1-2 GB of data mid-trip is easy if needed.
Tips: Each user will have a different data usage volume. You can check on the data tracking on your device to know how much data you have used in a month to estimate the data volume you need for your trip. 
IV. How Much Does a Japan SIM Card and eSIM Cost?
Cost for Japan SIM cards depends on the data amount, validity length, and network:
Data-only SIM Card: Typically 400-800 yen for 1 GB. 2-3 GB for a week costs around 1,500-2,500 yen ($10.08 – 16.80) .
Voice + Data SIM: Starts around 3,000 yen ($20.16) for minimal data and call rates around 20-30 yen/minute. More expensive than data-only.
Tourist SIM Card: All-inclusive packages with unlimited data, free calls, and mobile WiFi can cost over 5,000 yen ($33.56) for one week. Offers convenience at a premium.
However, you can find even cheaper SIM card deals like 1-2 GB for under 1,000 yen ($6.72) if you look in the right places and don't need an unlimited tourist bundle. Overall, a Japan SIM card can realistically be purchased for under 2,000 yen ($13.44) per week including delivery fees.
Some SIM card plans from mobile operators and MVNO that you can refer to for your Japan trips:
SIM card plans
Operator
Plan Name
Data Allowance
Validity Period
Price (JPY)
Price (USD)
Bmobile
Data SIM
1GB
30 days
1,980
$14.58
Data SIM
3GB
30 days
2,970
$22.02
COMST
Data SIM
1.5GB
30 days
2,420
$18.01
Data SIM
10GB
30 days
8,800
$65.63
GTN Mobile
Data SIM
1GB
30 days
5,000
$37.25
Data SIM
5GB
30 days
10,000
$74.25
IIJmio
Travel SIM
1GB
30 days
1,990
$14.79
Travel SIM
2GB
30 days
3,020
$22.48
Mobal
Data SIM
1GB
30 days
3,990
$29.66
Data SIM
10GB
30 days
16,500
$123.26
Nippon SIM
Data SIM
1GB
30 days
1,780
$13.23
Data SIM
2GB
30 days
1,980
$14.79
Sakura Mobile
Data SIM
1GB
30 days
4,950
$36.90
Data SIM
10GB
30 days
26,400
$197.01
Wi-Ho!
Data SIM
1GB
30 days
4,980
$36.93
Data SIM
5GB
30 days
5,980
$44.37
eSIM is also a cheap option for travelers to Japan. With the almost same prices as Japan SIM card, you will have an eSIM plan with same functions like SIM cards. Some eSIM plans from esimjapan you can refer to:
5-Days Plans:
7-Days Plans
10-Days Plans;
15-Days Plans:
20-Days Plans
30-Days Plans:
For comparison, pocket WiFi rental for Japan typically costs over 4,000 yen (~$26.84) per week. So getting a SIM card just for your phone is clearly cheaper than renting a standalone WiFi hotspot device.
Based on your schedule time, you can pick your own data plan.
V. Where to Buy a Japan SIM Card and eSIM?
Here are some recommendations as a local guide in Japan on where tourists can buy a SIM card or eSIM and the benefits of choosing an eSIM:
1. Where to Buy a Japan SIM Card?
For a physical SIM card, some good options to purchase include:
SoftBank stores: SoftBank is one of the major mobile carriers in Japan and their tourist SIM cards can be purchased directly at SoftBank stores for 4500 JPY (~$30.20). Stores are located across major cities.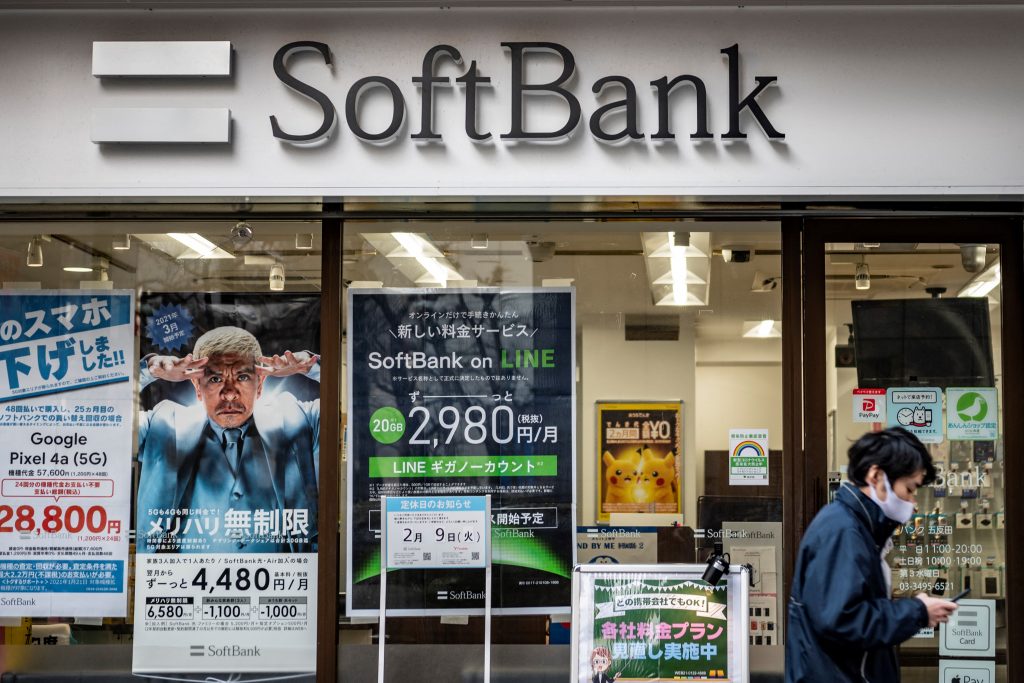 Convenience stores: Major convenience store chains like Lawson, FamilyMart and Seven-Eleven sell SIM cards from carriers like bMobile, IIJmio and Sakura Mobile. Look for the mobile phone recharge section.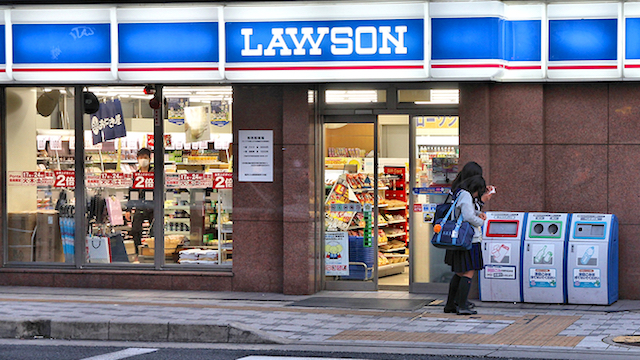 Airports: Most major international airports like Haneda Airport (Tokyo) and Kansai Airport (Osaka) have kiosks or stores selling SIM cards upon arrival. This is very convenient for travelers.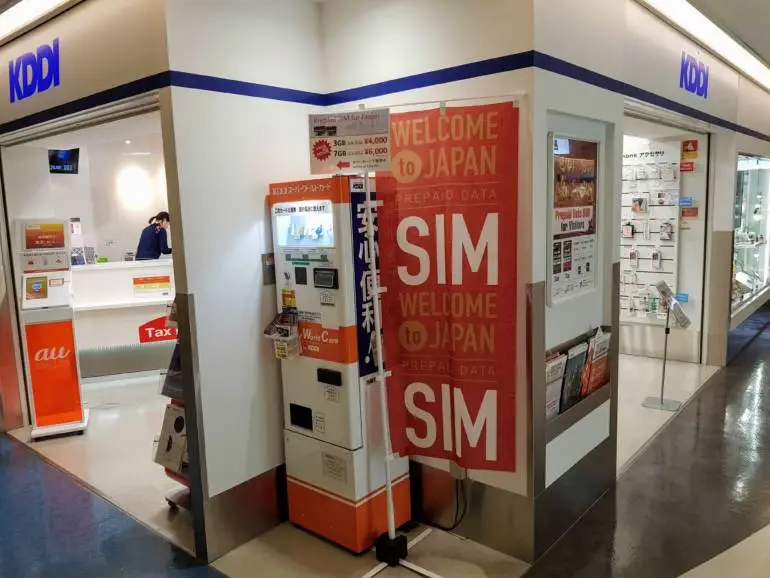 2. Where to Buy Japan eSIM?
However, it is recommended considering an eSIM instead. Here are some key benefits of eSIM over physical SIM cards in Japan:
Instant activation: eSIMs activate online through the mobile carrier or eSIM provider's app, allowing you to start using data right away. No need to insert a physical SIM card.
No SIM slot required: Works with any unlocked smartphone regardless of SIM card slot, which is useful for newer phones without slots.
Stay connected between destinations: eSIM providers like Airalo offer plans that work across multiple countries like Japan and other parts of Asia, allowing you to stay connected as you travel.
Travel seamlessly: You can easily switch to a new eSIM plan online when you arrive in another country rather than relying on physical SIM availability.
Environmental friendly: eSIMs produce no electronic waste from physical SIM cards.
Tips: I suggest looking at eSIM providers like Gigago or esimjapan.net that offer cost-effective data plans and good coverage specifically for Japan. All you need is wifi to activate. Let me know if you need any other recommendations!
VI. How to Use Japan eSIM
If you have an unlocked phone that supports eSIM like newer iPhones and Pixels, using a Japan eSIM can be an extremely convenient option. With eSIMs, you don't have to fuss with physical SIM cards at all.
The basic steps are:
Check if your phone model supports eSIM. On iPhone, go to Settings > Cellular and look for an "Add Cellular Plan" option.
Select your eSIM provider app and follow prompts to install the Japan plan. You'll scan a QR code which automatically configures the plan.
Activation is quick and happens right within the app. Once activated, you'll have a working Japan phone number and data allowance.
You can swap between eSIMs easily. Primary use is for data but some eSIMs support voice/text. No roaming fees or commitments.
Note: With eSIM setup taking just minutes, it's great for spontaneity. Please check out detailed guide
VII. Best Mobile Operators for Japan SIM Cards
Here are some outstading mobile operators in Japan. They have reasonable Japan SIM card and eSIM with various data and validity options:
Mobile Operators in Japan
| | | | | | |
| --- | --- | --- | --- | --- | --- |
| Operator | Coverage | SIM Card Price Range | Pros | Cons | eSIM Available? |
| NTT Docomo | Widest coverage across Japan (over 99%) | $23.56 - $53.85 | Fastest network speeds, best coverage, supports VoLTE/WiFi calling | Most expensive | Yes |
| KDDI | Nearly as widespread as Docomo (over 98%) | $23.56 - $47.12 | Competitive network, solid coverage | Slightly more expensive than SoftBank | Yes |
| SoftBank | Broad coverage of over 97% | $10.10 - $33.67 | Cheapest plans generally | Slightly slower speeds than Docomo/KDDI | Yes |
| Rakuten | Coverage of about 98.8% | $6.60 - $20.06 | Very low pricing, unlimited plans available | Newest network, speeds can vary | Yes |
| Bmobile | Runs on Docomo network | $10.10 -$26.93 | Inexpensive Docomo MVNO | Data capped plans | Yes |
| Sakura Mobile | Runs on Docomo network | $13.33 - $33.67 | Good Docomo coverage, flexible plans | Higher pricing than bmobile | No |
| IIJmio | Runs on Docomo network | $6.60 - $23.56 | Inexpensive Docomo MVNO | Data capped plans | No |
This covers some of the top picks, but there are dozens of other Japan MVNOs to choose from. Comparing a few providers with your ideal data amount, network, and SIM card type helps find the right match.
Advice: For tourists, it's highly recommended to choose the mobile operators that offer eSIM plans. It can be a reasonable price with much convenient.
VIII. Tips for Saving Data for Japan SIM Card
To reduce mobile data usage in Japan, follow these tips:
Connect to free WiFi whenever possible: Look for WiFi at your hotel, cafes, restaurants, and other local businesses. Parks, transit hubs, and shopping centers may also offer free public hotspots.
Download offline Google Maps: Save detailed offline maps of Tokyo, Kyoto, Osaka etc on Google Maps before your trip. This allows navigation without consuming mobile data.
Enable Data Saver: Turn on Data Saver mode on Android or Low Data Mode on iPhone to minimize background data usage. Disable auto-playing videos and music as well.
Message over apps instead of SMS/calls: Apps like WhatsApp, Facebook Messenger, LINE and WeChat offer free messaging without using cellular minutes or SMS allowance. Make calls over data as well.
Batch photo uploads: Upload photos and videos when on WiFi instead of over mobile data. Avoid auto-uploading every shot you take immediately.
Download language packs: Download Japanese language packs for Google Translate and other apps while on WiFi before your trip. Translating on the go uses less data.
Turn off roaming: Keep roaming disabled so your SIM card isn't unintentionally using data outside Japan which often incurs expensive fees.
Following these tips will help you maximize the value of your Japan SIM card data allowance during your trip!
IX. FAQs
Do I need to unlock my phone to use a Japan SIM card?
Yes, your phone needs to be unlocked to insert and use a Japan SIM card. Contact your home carrier to request an unlock before traveling if your phone is currently locked. iPhones purchased directly from Apple are generally unlocked already.
Can I use mobile hotspot with a Japan SIM card?
Yes, you can enable mobile hotspot (tethering) to share your Japan SIM card's data allowance with other devices like a laptop, tablet, or second phone. This is useful for WiFi on the go. However, beware of additional hotspot fees on some cheaper plans.
Is free public WiFi available in Japan?
Free public WiFi is less common in Japan than other Asian countries. You may find WiFi hotspots at major train stations, malls, cafes, and some convenience stores but coverage is spotty. Purchasing a SIM card is recommended over relying on free WiFi.
Do Japan SIM cards work in other countries?
No, Japan SIM cards only provide service domestically within Japan and don't offer international roaming. Switch back to your home SIM or get a separate SIM card when traveling outside Japan.
Can I make calls and text with a data SIM?
You can make voice calls over data apps like WhatsApp, Skype, Facebook Messenger instead of regular calling with a data-only SIM card. Texting requires a SMS/call capable SIM card or using data-based messaging apps.
What's the best Japan SIM card for long-term travel?
For trips over 2-3 weeks, getting a monthly data plan of 10+ GB or unlimited data on a long-term SIM card can provide the best value compared to short-term prepaid SIMs. Many providers offer 1-12 month contracts.
X. Conclusion
Getting a local Japan SIM card unlocks connectivity convenience and flexibility for tourists. For most travelers, an affordable data-only prepaid SIM card around 2 GB offers plenty of maps, web browsing, messaging, and basic usage for short trips up to two weeks.
Purchasing online in advance and picking up at the airport or having delivered provides the best deals and avoidance of queues. But eSIM options like Ubigi are growing in popularity as well for their instant digital setup. With various SIM card options readily available, there's no reason to visit Japan without the internet in your pocket.